Joe Paterno Fired At Penn State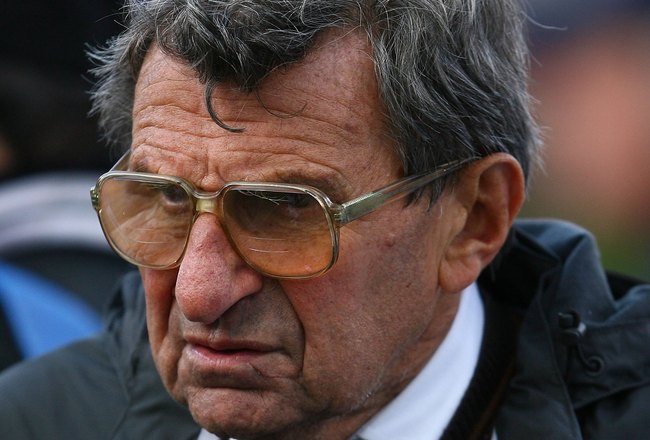 Penn State football coach Joe Paterno was fired late Wednesday night as the result of a growing child-sex scandal that has engulfed the program. The move is effective immediately meaning he will never coach for the school again. President Graham Spanier was also fired.

In their statement, the board announced, "The Pennsylvania State University Board of Trustees and Graham Spanier have decided that, effective immediately, Dr. Spanier is no longer president of the University. Additionally, the board determined that it is in the best interest of the University for Joe Paterno to no longer serve as head football coach, effective immediately.
"The board has named Dr. Rodney A. Erickson, executive vice president and provost, as the interim president of the University. Tom Bradley, assistant coach, has been named interim head football coach."
Earlier in the day, Paterno, the winningest coach in FBS history, had announced that he would retire at season's end, allowing him to coach the Nittany Lions' final home game this Saturday against Nebraska. After an afternoon of calls for the coach's immediate removal, the board called the emergency meeting.
It caps a fifth day since the revelation of a grand jury investigation that led to 40 charges relating to alleged sexual abuse of children, some of it allegedly occurring within Penn State football facilities, by longtime and former Penn State assistant Jerry Sandusky.
According to the grand jury report, Paterno was first notified of the alleged abuse in 2002 by then-graduate assistant and current assistant coach Mike McQueary, who reported seeing Sandusky in the Penn State showers with a 10-year-old boy. Paterno notified the athletic director, Tim Curley, and a vice president, Gary Schultz. Both Curley and Schultz have been charged for their failures to report the information to authorities. Both men also stepped down from the school on Sunday.
For the place known as Happy Valley, times have been anything but in State College, Pa. Shortly after Sandusky's arrest on Saturday, details began to emerge of the alleged abuse; the grand jury report detailing claims of molestation by eight boys over 15 years. Among incidents that allegedly occurred on campus was McQueary's claim that he witnessed Sandusky sodomizing a boy in the showers in the football locker room.