Deron Williams agrees to $100 million contract with Brooklyn Nets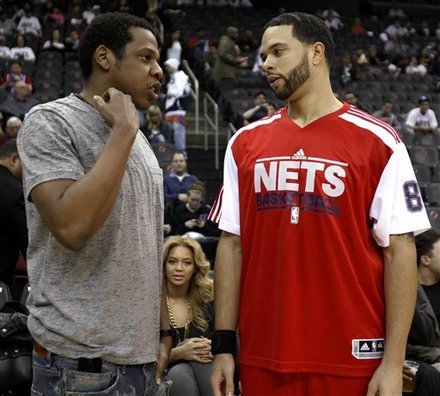 All-Star point guard Deron Williams has agreed to a five-year, $100 million contract to remain with the Brooklyn Nets.
Williams announced his decision on his Twitter account Tuesday night, opting to stay with the Nets rather than sign with the Dallas Mavericks. He also directly informed the Nets that he was accepting the team's five-year, $100 million offer, league sources said.
Williams' decision is a coup for the Nets, who have worked hard to line up a franchise star for their move to Brooklyn this upcoming season. They unsuccessfully tried to trade for All-Star forward Carmelo Anthony last season and so far have been unable to persuade the Orlando Magic to trade All-Star center Dwight Howard. Nets general manager Billy King gambled by acquiring Williams at the 2011 trade deadline, and was able to secure Williams' commitment by selling him on the franchise's future.
Williams' commitment comes one day after the Nets acquired All-Star guard Joe Johnson in a blockbuster trade that sent guards Anthony Morrow, Jordan Farmar and DeShawn Stevenson and forwards Jordan Williams and Johan Petro to the Hawks, along with a lottery-protected 2013 first-round pick the Nets acquired from the Houston Rockets. The Nets also have agreed to a four-year, $40 million contract with forward Gerald Wallace, a three-year, $15.6 million deal with Bosnian forward Mirza Teletovic and a three-year, $5 million deal with forward Reggie Evans, who was acquired in a sign-and-trade agreement with the Los Angeles Clippers.
The Nets have continued talks with the Magic about a possible trade for Howard, but if they can't make a deal, they'll work re-sign free-agent center Brook Lopez and move to keep free-agent forward Kris Humphries, a league source said. The Nets also are still pursuing Milwaukee Bucks free-agent forward Ersan Ilyasova, sources said. Milwaukee has pushed to re-sign Ilyasova according to Yahoo.