BROOKLYN — NYPD rookie officer Peter Liang broke down in tears Thursday night as jurors found him guilty of manslaughter and official misconduct in the shooting death of Akai Gurley, an unarmed black man who the cop fatally shot in a dark Brooklyn public-housing stairwell in 2014.
Liang, who was also facing charges of assault, reckless endangerment and criminally negligent homicide, was in the courtroom as the jury read the verdict.
A NYPD spokesman announced Thursday that Liang has been fired from the department.
The case went to the jury Feb. 9, taking the jury three days to reach their verdict.
A decision comes after Justice Danny Chun denied on Feb. 10 a defense request for a mistrial, saying Liang's legal team fell "way, way short" in arguing that the prosecution in closing arguments implied the officer intentionally shot Gurley, who police determined was "a total innocent."
What happened that November night
The night of Nov. 20, 2014, Liang and his partner were patrolling the Pink Houses in East New York. Liang had his weapon out as they canvassed a dark, unlit stairwell.
Startled by a noise, Liang fired the weapon once. Gurley was hit in the chest. The 28-year-old died at a hospital.
Liang testified it was an accident, an instantaneous reaction to having been alarmed.
"I was panicking. I was in shock, in disbelief that someone was actually hit," Liang said at trial.
But prosecutors allege the rookie officer with 18 months' experience shot into the dark stairwell "for no reason" and then wasted time arguing with his partner about calling for help.
"In fact, instead of calling for help, he just stood there and whined and moaned about how he would get fired," Assistant District Attorney Marc Fliedner told jurors.
Liang's lawyers argued that Gurley's fatal wound was "a million-to-one possibility," saying the bullet traveled downward, hit a cinderblock wall then ricocheted and struck Gurley, who was a floor below the officers and "completely out of sight."
"What happened here is a tragedy," defense attorney Rae Koshetz said. "It's a terrible tragedy, but it's not a crime."
Prosecutor Joe Alexis argued that Liang showed poor judgment, again and again, and that the shooting wasn't an accident beyond the officer's control. He asked jurors to hold Liang accountable.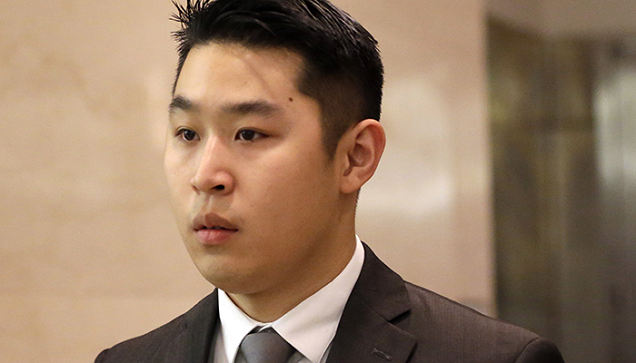 Watched around the country
The trial garnered attention beyond New York due to the national controversy over charges that police are too quick to use lethal force, sometimes against unarmed individuals. Outrage over police shootings or excessive use of force has spurred protest movements in major cities such as Chicago, Baltimore and New York.
In the most well-known cases — the fatal shootings of Michael Brown in Ferguson, Mo., and Walter Scott in North Charleston, S.C., and the death of Freddie Gray while in police custody in Baltimore —the victims were unarmed black men.